Major Changes in Auditing Standards SAS 122-33
Code: 21-SAS
---
Course Details
240 pages
Objective: To review recent major changes in auditing standards.
This course explains the significant changes made to auditing standards by the Auditing Standards Board's Clarity Project that resulted in the issuance of SAS Nos. 122-133. The course is written in a format that provides an overview by allowing the reader to review, recall and identify key provisions within auditing standards. Level: Update
After reading the course material, you will be able to:
Recall the structure of the new ASB Clarity Project and how each new standard is segregated

Identify categories of laws and regulations that are found in AU-C 250

Identify the scope of communications an auditor should make with respect to noncompliance with laws and regulations

Identify some of the different types of deficiencies in internal control found in a financial statement audit

Identify the indicators that may suggest there is a material weakness in internal control

Identify the information that should be included in a communication of certain deficiencies in internal control

Recognize the new audit report title

Identify examples of headings that should be in the new auditor report

Recall some of the modified opinion headings found in the new audit report

Identify the new type of paragraph that is permitted in the audit report

Identify some examples where an emphasis-of-matter paragraph is required in the audit report

Identify the new group auditor rules including the responsibilities of parties involved, and the procedures to be performed

Identify the different types of special purpose frameworks permitted under auditing standards

Identify some of the elements that are required in the different types of special purpose reports

Identify the general types of disclosures requires in special purpose framework financial statements

Identify how an auditor can evaluate "professional judgment"

Recognize some of the elements that must be in an engagement letter

Identify the requirements that a successor auditor must satisfy in an initial audit engagement involving opening balances

Identify an instance in which it may be necessary for an auditor to obtain a positive confirmation

Identify when an auditor may not be required to use external confirmation procedures

Identify a procedure an external auditor should perform with respect to an internal auditor

Define the term "reasonable period of time"

Identify an example of a mitigating plan as used in the evaluation for going concern

Recognize how an auditor should report on going concern when there is substantial doubt

Recall an example of a type of exempt offering covered by SAS No. 133

Presentation Method: Self-Study
Category: Auditing
CPE credit: 8 Hours
Program Level: Update
Prerequisites: None
Advance Preparation: None
Exam expiration date: Participants must submit exams for grading within one year from the date of purchase
For more information regarding refunds, complaints, or cancellation policies, please contact our offices at 817-477-0222.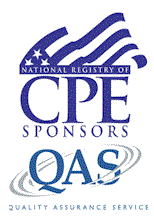 American CPE, Inc. is registered with the National Association of State Boards of Accountancy (NASBA) as a sponsor of continuing professional education on the National Registry of CPE Sponsors. State boards of accountancy have final authority on the acceptance of individual courses for CPE credit. Complaints regarding registered sponsors may be addressed to: National Registry of CPE Sponsors, 150 Fourth Ave. North, Nashville, TN 37219-2417. Web site: www.nasba.org
NASBA Sponsor number 108096

---